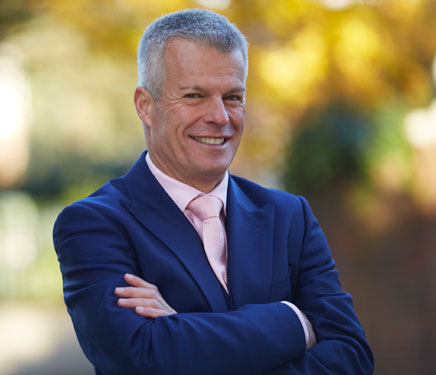 Without doubt Nick Freeman is the most famous solicitor practising in the country today. His reputation as a skilled advocate and tenacious lawyer has been reported far and wide within the press. Owing to his indepth knowledge of motoring law, the press dubbed him as "Mr Loophole" following his continued successes at challenging prosecutions. So much has the name of "Mr Loophole" become a mark of his success that Nick trademarked the name in 2008.
Following his graduation from Chester Law School in 1979, Nick began his legal career as a prosecuting solicitor for the Greater Manchester Police. Owing to his advanced legal knowledge and courtroom style he was soon recruited into private practice by the then highly respected firm of Burton & Co, where he was soon made a partner. In 1999 Nick made the move of starting his own solicitors' firm and at that point Freeman & Co was created. From this early start, Nick has developed Freeman & Co into one of the best known and highly respected solicitors' firm in the country.
The press and media have followed Nick's career closely, in part because of the high profile and celebrity clients that he attracts. His client list reads like a "who's who" of famous names, having represented the likes of David Beckham, Sir Alex Ferguson, Andrew Flintoff, Jeremy Clarkson, Tiff Needell, Ronnie O'Sullivan, Jamie Rednapp, Colin Montgomerie and Van Morrison, to name but a few.
Although Nick is well known as a skilled motoring lawyer, his background and practice covers a full range of criminal offences, from assault to murder, from theft to serious fraud and from indecent assault to rape. By utilising his years of experience and technical legal knowledge, Nick applies the same level of scrutiny and tenacity to each and every offence that his clients face; looking for the weaknesses in the prosecution case and getting the best possible result.
Despite the media embracing Nick as "Mr Loophole" and them reporting on his celebrity clients, Freeman & Co thrive on representing ordinary people and members of the public with the same tenacious manner that can be read about in the press.
Outside of his practice Nick regularly appears both on television and radio as an experienced and respected legal commentator. In recent times his credits have included Tonight With Trevor MacDonald, Close Up North West, Channel 4 News, BBC Radio 4 and BBC Radio 5 Live to name but a few. He also appears regularly on Sky News, BBC News 24 and Legal Eagles on ITV's This Morning. Nick is a regular legal commentator for the Sunday Times.
A father of 2 children Nick is a keen golfer with a 2.9 handicap and enjoys vigorous exercise with his Staffordshire Bull Terrier.